Costa-Rica/eng
Introduction
 FLASH : New page in french but a lot of pictures on a five days stay in ISTANBUL

- Trip to Costa-Rica in December 2006 (translation  of the french page).
- Trip to Bali May-June 2008 (several pages, same as in french. First is under construction. Access by « Pages » menu, on right )
This blog was started in January 2007, just after the trip to Costa Rica, in December 2006 without the author still has a good knowledge of the support offered by unblog.fr. Since this knowledge has improved considerably, perhaps also the media itself. For these reasons, it includes an evolving architecture. This article, head of the english page dedicated to travel to Costa Rica in 2006, is now a site map and explanations useful for his visit.
Site for english visitor:
- Introduction and  Costa-Rica trip (décember 2006)
-Voyage à Bali en Mai-Juin 2008 (in french, now 3 pages are presented, they can be accessed from the menu « Pages » here against)
- Trip to Bali May-June 2008 (several pages, same as in french. First is under construction, other will be later. Access by « Pages » menu, on left )
- The Garden in 2008 (access by menu « Pages », flowers of my garden)
Since january 2009, a new page  on the Garden in 2009  (in french, many pictures)
- Stays in Tunisia (in french, many pictures)
NEW, the first publication on a stay at Istanbul (May 22/27  2009). Several pages will be published in french with a lot of pictures.
NEW also, a page about travel preparation. An attempt to give a thinking tool for those who ask questions about. We should be able to improve it if you criticize, comment or ask question. Thank you for doing that.
Since the menu « links » in the left side, you find especially the extraordinary journey of « Astina », the balinese guide, for which we organized, with some of his french clients, a stay of five weeks in France. To read the blog that says, you have to click on the link, then you get a new page: start by reading the archives of March. This allows you to understand this beautiful story.
The ties « photos of Bali and St Petersburg » sends the photo collections deposited with Flickr, 2001 and 2004 for Bali, 2005 for St Petersburg. The « album Bali » on the left shows photos of Bali about staying in 2008. Also visit « Indians of Costa Rica » and « Activities of Borucas », to complement your knowledge of this tribe.
Visitors do not hesitate to make comments and criticisms, they are welcome.
Costa-Rica
This page of our blog is the story of our stay in Costa Rica with Christophe, made from 12 to 30 December 2006. For 18 days.
We have also found a few days for our little son, Julien.

The first page was written in french. The issue began in mid-January 2006. Translation was made in July 2008 and presentation is now chronological.
I hope you will like the history of pizote (coati) and the video of small birds.
Take advantage of this visit to look at the links left blogs « Visit Astina » (same author to fully understand the archives back in 2005-03 – in the bottom right), « Photos Bali and St Petersburg (photos our trip to these places), « Indians of Costa Rica » and » Activities of Borucas « , to complement your knowledge of this tribe. Don't miss the links on our Bali 2008 trip, a fabulous destination!

Our steps:

From 12 to december 16 : San Jose, Arenal, Los Suenos
Steps:
- December12th : We leave Le Tholonet, our french village, near Aix-en-Provence, at 05:45 Flight Iberia Marsilia-Madrid 7:30-9:10 Waiting 3:20 before the th takeoff to San Jose via Guatemala City, flight duration 14:30 with 45 minutes waiting time in GC. Arrival at 20:45. Retrieval of our Alamo 4×4. I use Alamo almost each time I visit USA. Serious and not to expensive.
Night at Bougainvillea Hotel, comfortable, good standing, reasonable prices.
December 13
The day after, we walk in the magnificent park of this hotel, our first contact with the rich tropical vegetation of Costa-Rica.
At about 9:30, we leave in 4×4 in direction of Arenal volcano, via San Ramon. After 2 hours and a half driving, we discern the sea, Pacific ocean! We are 22 km far from Puntarenas. Small problem: at obviousness, we forgot to turn right in San Ramon. It is now 12:30, lunch time. While our sober meal, we ask the waitress to tell us how far we are from San Ramon:
- "I don't know how many kilometers is the distance…but I know the time you need to join, it is 45 minutes." That is said with confidence.
We look at each other and find this evaluation rather surprising for about 30 to 40 km.
We leave at 13:30. We join San Jamon really 45 minutes after, give or take 1 or 2 minutes. There time to drive a way does not depend on the car type, but essentially how many trucks are on the road, what are the narrowness and the sinuosityof the road.
From San Jamon to Fortuna, which is located close to Arenal volcano, the road is very beautiful: low traffic, recent covering, only light sinuosity. Speed is limited to 60 km/h to 80 depending on the part. Sometimes 40 or even 25 close to school. No freeway in Costa-Rica (except from San Jose airport to downtown ). Landscapes are nice: green with a blue and cloudy sky.
We arrive at about 16:00 in Fortuna and look for our hotel, suggested by a Christopher friend: Arenal Lodge. It is in fact at about 15 km far from Fortuna: from the road, where is the guardian and the barrier (you must be accepted to enter), one or two km track with very strong slope, requiring a 4×4, because it is usually humid or even muddy in some part. Just before arriving at the guardian place, we have seen a "pizote" standing on the road border.
To know what is this small animal, named also Coati, the better is to look the pictures or browse at
http://en.wikipedia.org/wiki/Pizote
As it was alone, it was a male (dixit Diego, our guide in Drake Bay). We stopped the car on the border of the road, just at the level of the coati. Far from taking fright, the "pizote" came close to the car and stood up, doing fine, beg for some food. This carnivore had to be content with our last square of chocolate (not recommended, says Diego). Not fierce as we stayed in the car. Before our arrival at the hotel we went to Lake Arenal, magnificent.
The installation at the hotel is going very well. We are satisfied with our room: we are fortunate to be able to contemplate the Volcano. Fortunately, the clouds are just above the summit and the volcano coughs and spits for a few seconds. Michèle could enjoy the show, not me, I was in the process of seeking the latest in the baggage car. I still could see with binoculars and photograph, zooming, small incandescent lava flows.
December 14
The time difference is interesting in this sense and in this country, where the day dawns in this time 5:30 to go to bed 12 hours later.
We are well rested from 6:00 and can sleep very early in the evening. From 6:00 therefore, I was in a seat suspended from a chain hung from the ceiling of the terrace of the room to see the landscape out of the mist. No volcano at that time.
By against the birds had already begun their day and their songs, ranging species, provided the atmosphere of places. Around 7:00, I was visited by two magnificent multicolored parrots, which grignotaient wood bulkhead separating the rooms nearby. They were quite talkative, but they spoke perhaps Costa Rican, because I did not understand.
Video: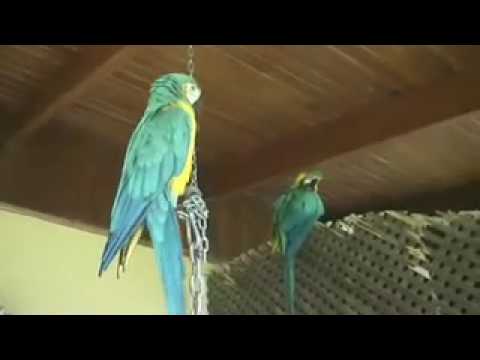 Then a boy came to put some bananas on a perch placed 3-4 m, right in front of me. Immediately, a dozen birds came from the neighbouring trees, for their breakfast. So I could shoot a beautiful sequence of this meal, which give an idea of some local species very colorful.
Video: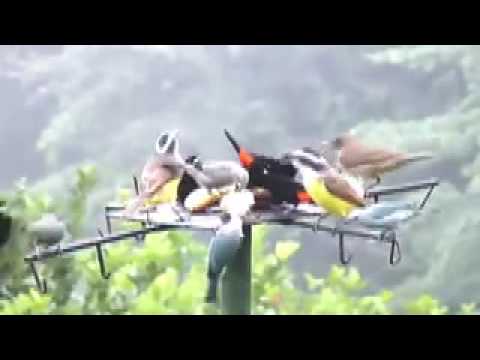 After breakfast, ours this time, Christophe and I went to spend a moment in one of jaccuzis, outdoors. For my part, I then entered the pool for a few minutes: invigorating contrast, from 34-35 degrees 22-23 degrees.
Michele and I have continued with a walk in the woods after visiting the "mariposa" butterfly farm, which had nothing exceptional. About a minute walk, climb and descent on slippery ground.
Descent to Fortuna for full colones and gasoline. We see the pizote in faction again, but we do not stop. Lunch at a nice restaurant where I could shoot a new parrot, green with a little red on the head this time, but not talkative at all.
After the meal, we went to Tabaconès, hotel, located at the bottom of the volcano, which has a park with waterfalls fed by hot springs: 41 ° 5! So I say that we soaked little time whenever we encounter a waterfall. I especially enjoyed a small pool at 27-28 °, maybe 30 degrees. The walk in the park is beautiful, photos and video to reflect.

Evening without particularity. I do not dwell on meals, food is good without excesses. Fruits are excellent: banana, pineapple, papaya, mango, watermelon and melon few times. Special mention for pineapple, whose flesh is almost white. The coffee is very good, but not very strong.
December 15
We leave the hotel around 9:30. A little too late for my liking, because we have a lot of road to be done to reach Los Suenos, our next step. Los Suenos is a "Resort", with a beautiful hotel Marriots near Jaco. We find our pizote in place. This time we stop. It crosses the road as we come to say hello (or rather "au revoir") and starts still standing tensing "hands", whose fingers are imposing claws.

We have a few cakes that are his delight. We are obliged to stop a car so that he can quietly enjoy, in the middle of the road. When we will start, it will continue its merry-go-round with passengers of the car, happy to make some shots, too.
We will arrive in San Jamon to 12:30. We continue through Palmares then Atenas. On the way to Orotina, we stopped twice by work. The second stop is at a restaurant, excellent opportunity to lunch without losing time because these judgments are counted in many minutes. The road is narrow, winding and very mountainous up Orotina. From this village, the road has improved significantly broader and less winding. We arrive at Los Suenos to 16:00. Nice Bay, pool and beach, the sea is not dangerous. Marina on the right, filled with boats for fishing.
The food is very good and gives us satisfaction. The room is comfortable. The TV programs without interest, at least for us. Christophe not join us until the next day around noon.
Day of relaxation at the hotel. We will walk to the Marina. Belles residences, but the style of small buildings is without originality. Belle vegetation. It's very hot.
We resume the road towards Dominical. First stop in Jaco, 2 km from Los Suenos. The following photos show you the beach and the road which crosses the city.
We continue to Quepos, a short stroll in the Manuel Antonio National Park, on a trail along the beach. The sea is very beautiful and pleasant.
Video :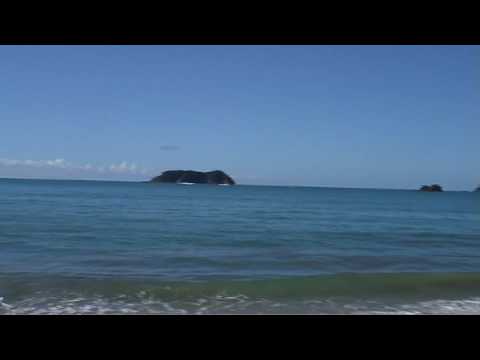 We'll see our first iguana.

Across the city we see a sloth hanging freely in a chain along the sidewalk.
Video: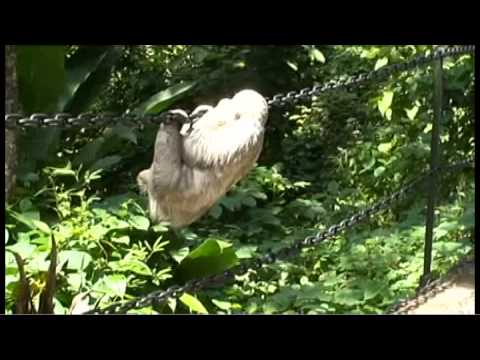 Lunch at the Parador hotel, which overlooks the Pacific. Beautiful pool, but sea far beneath, attainable only by foot: have the breath to return!
From Quepos to Dominical, it will undergo a 45 km wide runway, but a desire chaotic, with strictures dangerous at night, whose presence is a consequence of the floods that regularly sweep the bridges. Overnight in Dominical, near the Bella Vista ranch, on the plateau of the hill along the Sea: splendid panoramic view of the Pacific, impossible to remove.
The alarm clock is provided by the howler monkeys who shout from approximately 5 :30, followed by gurgles noisy birds.
We are going to Sierpe where we get 30 to 10 hours. The road is the best that we had as well by its surface than by vegetation that surrounds it. Sierpe is the place from which small boats joining the Drake Bay area, where are located a good number of hotels that we can not reach by road. It is 1 hour and a quarter to get there.
Video: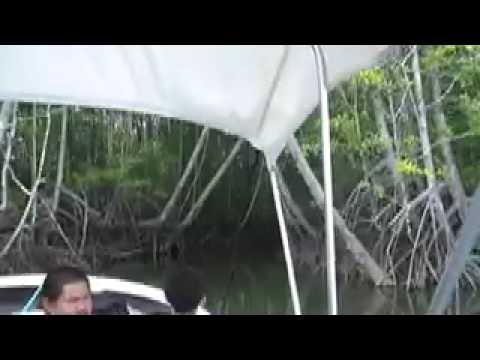 We will be able to Marenco Lodge, our hotel, around 12:30. We must put our feet in water to approach the beach. The bags are placed in the trailer of a tractor. The hostess ahead (we are only 2 arriving that day) warns qu'i will climb some stairs to reach the hotel. I took the bag that Michèle wanted to keep and we start to climb a good step, while the tractor misses us and climbs baggage. I distinguished some fifty steps up to the first turn.After it, I distinguished even fifty! Just a few more steps and I ask for the total steps…… hostess announces me about 150, while Michèle resumed his bag! Yes, but in addition, spaces without march climb too! I will arrive very tired at the restaurant where we are asked to restore. The view is indeed magnificent, but it has a price!
The meal consists of lasagna and fruit, it is correct. Next comes the boss. She speaks french well and is there to define the programme of stay. We had planned a tour of Corcovado Park, but it is extensive and group I am afraid to deal with difficulties. We quit for a stroll along the beach to San Josecito and a walk in the jungle that surrounds the hotel.
We will also exit by boat to island Caño. We will have the opportunity to see some dolphin back and admire magnificent fish. The walk in the woods must be accompanied by a guide. Without Diego, we never saw the tiny frogs on the leaves (by the way, you will see on the following photos)
Iguana or big lizard on a branch.
or learned so much about plants or insects. The atmosphere was excellent: we will make the acquaintance of a family of Los Angelès and also a Swiss couple, we were pleased to find Eve at the ranch in Bella Vista, two days later.
December 19 – Walking up the beach at San Josecito
The day is devoted to a walk up the beach in San Josecito, we descend the famous stairs to the sea that we along for about 2 hours 1 / 2, on jungle, accompanied by Diego, very nice guide from the hotel. He speaks very well french.

We discover the many swarms of termites on the trunks of trees.

We fear some Capuchins with white face, perched above our heads, just because they show their teeth with agressivity.
Video: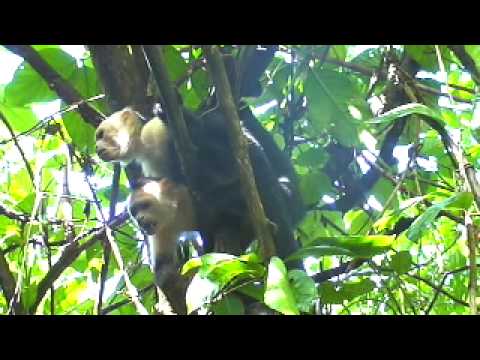 We make a tour in a canoe.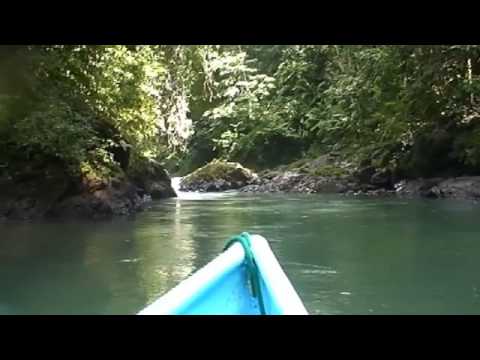 The guard of the park monitors the outbreak of turtle eggs, he had recovered on the beach after laying and placed in a box full of sand during the incubation. These babies will be kept away for a month and a half, then released into the sea. Thus their survival rate will be greatly improved.
After a picnic, excellently prepared by Diego, we make a nap in hammocks. Note that the box containing the picnic had been filed by a boat from the hotel. The food is so copious that we can offer a lunch at 3 young hikers, who went through there, and sleeping bag on his back.
The boat will take us to bring us back to the hotel.
An excellent day.
We are with a dozen tourists staying at a hotel near ours to spend the day around and on the island of Cano. Approximately 1 hour, during which we can see some back dolphin, which don't show spectacular jumps. Après une séance de "snorkeling", nage avec un tuba (le snorkel) et un masque pour admirer les poissons bigarrés et vifs en couleurs, pique-nique sur la plage, qui est très loin de rivaliser avec celui de la veille. After snorkeling, swimming with a snorkel (snorkel) and a mask, to admire the fish colourful and lively color, picnic on the beach, which is very far to compete with that of the previous day. Two hours walk on the island for the brave. We prefer a nap and the sea.
Back without problem. Upon arrival, I avoid the stairs using tractor trailer. Promis, I do not use it again, so I'm shaked on one side to another.
After the loss of use of the camcorder, we preferred to leave also the camera at the hotel. I had bought two disposable tight cameras for the exit, but they remained in the bag to Dominical. So, today, no pictures!
We taste the tranquillity of the place: a walk around our bungalow in the morning, walk in the woods with Diego in the afternoon. A video will be placed in this article (if my Google will again become operational) on parrots, a part concerns the blue and yellow Arenal on the terrace of the room, and the end a red and yellow parrot glimpsed in the garden Marenco Lodge. We had also seen a flight of a half-dozen above the beach of San Josecito.

December 22 – Back to Dominical
We down the 150 steps to Marenco Lodge at 7:15 to take the boat, which we back to Sierpe. The two Swiss friends that we met, leaving the scene at the same time as us. Check to 9:00. We resume the road to Dominical, where we arrive around noon after a few stops: discovery of an excellent restaurant, where dinner we will return the following week. It is held by a Canadian company presents « Julie on Terror », pretty woman about 45 years, courses in a small supermarket, and in the fisherman fish merchant. We will find a big red fish (2.4 kg), which takes red snaper of Florida and grouper: stupor, it costs only about $ 9.6 (yes, I do not typo, that colones is 2000 kg, and roughly 1000 colones = $ 2; European currency, it is at least 8 €). Pour ce prix là, on peut acheter, chez nous, tout juste un peu plus d'un kg de sardines. For this price there, you can buy at home, in France, just a little over one kg of sardines. We install for eight days in Bella Vista, near the Ranch. Magnifique vue sur le Pacifique. Magnificent views over the Pacific. Afternoon of relaxation and storage of photos (at each stage, I use the computer to transfer venue and arrange my photos of the device memory to my USB 2 GB). In the evening, I take some pictures of the sunset.
Dinner fish: I can assure you that it is an excellent, worthy of snaper, grouper and sea bream the Royal.
Bella Vista Lodge has a ranch, allowing beautiful walks in the jungle nearby. Its terrace is spacious, with a splendid view of the sea
http://www.bellavistalodge.com/

This is the second year, until December stands at the ranch an exhibition of masks Boruca, famous in Costa Rica. The Borucas are an Indian tribe in southern Costa Rica, Christophe knows: he discovered in the early 90′s, during his first visit Costa Rica, as part of a series of visits to Amazon, Mexico, Colombia, Panama among the Kuna, during which he visited Indian tribes. He was already seeing income. This time, he found Don Ismael Lazaro Gonzales, a renowned sculptor, and Randall a younger sculptor, he had filmed fourteen years earlier. This exhibition is an opportunity to find the most beautiful sculptures, and this year to discover the first totems of the tribe. We have not seen such sculptures elsewhere.
Be careful translation is under construction……
Today I show you some achievements sculptors Borucas exposed to Bella Vista and I give 2 links to help you better understand this Indian tribe of southern Costa Rica, Pacific coast, their activities and problems. Below are the totems (they are carved on 360 °) and masks and sculptures.
It was the day's Eve: bizarre to prepare this time with a temperature over 30 °! Tonight we meet at Bella Vista Lodge, at Aron. Our Swiss friends will be again, because they like the atmosphere. They will continue their trip a day later. Michèle prepares cakes with lemon and bananas. We are about fifteen. On the menu, the T-Bones BBQ. For this year we forget oysters, foie gras and champagne.
December 25 – The ride on horseback
Today is the feast for the riders: a long walk about 6 to 7 hours, for a quarantine of riders. All horses on the ranch are part and Christophe has been a pleasure to participate. I did not know his qualities as a rider. A raffle concluded the day: the wife of an American from Florida wins a cow. Both on holiday in a house they rented near Bella Vista Lodge, took part in Eve last night. I think that is Aron, who will keep the cow at Ranch until the next couple of holidays!


December 26 – Trip to San Isidro
San Isidro is a small town north-east of Dominical, about an hour's drive, winding and so to speak always going uphill. But beware, this is not the only San Isidro in this country, there are at least four. We make a stop to visit a small church – the Costa Ricans are Catholics and practitioners.
We stop to admire a beautiful panorama in which some vultures. My camera will retain only one.
Returning from San Isidro to Dominical, we visit the Serpentarium, which lies a few kilometres from Dominical, roadside and whose access is easy. Many varieties are presented, mainly snakes as well as iguanas, turtles and crocodiles, but really reduced in number. During our walk in the woods, snakes were always present in our minds, but we have not seen. It must be said that the intent was not to leave the path of earth. For once, put one foot outside in an area infested with large ants, I made to order by the guide, in the tenth of a second, with a vehemence that surprised me.
And to conclude this visit a film rated X!
We will spend the afternoon on the beach, located about 70 km south of Dominical: we choose because the sea is not dangerous and that the site is very pleasant. A beautiful vegetation decorates access and then you regret to leave.
A curiosity: north of the beach, a tunnel of about twenty meters, but fairly straight so we noticed the entrance on the sea side. The waves enters in with a lot of noise and reflected on the tip of the beach.
Video: Do not worry about my cry at the end of the sequence, the wave just passing on my feet!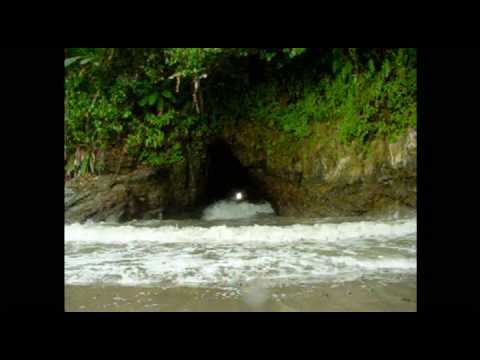 We have the dinner near the beach at « Julie Terror », this nevertheless very welcoming Canadian that I cited earlier: I recommend this restaurant if you go in this region, it is one of the best. But be careful! do not point to unexpectedly for dinner, but book:
EXOTICA
Bar & Restaurant
OJOCHAL of OSA
Costa Rica
Tel: (506) 7865650
e-mail: exotica@cacsa.co.cr
The stay expires. Tomorrow we will resume the plane to Marseille, via Madrid. Around 8:30, we start from Dominical for San Jose. We turn in cloud Col de la Mort, 3400 meters (peak of Death at 3451 m, cerro de la Muerte). The temperature is very fresh. The heavy traffic and slow. We take dinner in « the » snack journey. Arriving in San Jose to 16 hours. We are looking for the hotel, where we had booked a room. When we find him, we spend our way to find a more welcoming. We choose the Sleep Inn, centrally located hotel, which we did not miss. It is comfortable and the prices are moderate. And finally, two computers connected to high speed internet. We go out and run the center, which is a pedestrian zone (it is advisable not to walk outside this area after 18:30). We find a restaurant french a few steps from the hotel, we chat with the very kind boss, who took over this institution, the oldest restaurant in San Jose, 6 months instead. She just Sète. We retain a table for dinner. Very good food and good service. Note:
El BALCON de EUROPA El BALCON of EUROPA
50 mts al Sur del Hotel del Rey, calle 9
San Jose Costa Rica
Tél: (506) 221 4841
e-mail: balcondeeuropa@hotmail.com alcondeeuropa@hotmail.com
December 29th – The trip ends today
Our last night was good and we spend the morning to visit the downtown San Jose. The sun is there and the streets are alive. We will not have time to visit the museum of gold, is a pity.
Some purchases, the last postcards sent some photos fairly commonplace, a last meal and very correct, 30 to 14 hours, the departure to the airport with the shuttle from the hotel…… for departure at 18:00.

A problem with the hostess Iberia to the registration, which wants us to pay $ 160 extra for making change our return flights. I almost explode! In fact, last october, Iberia informed me of a change in flight, resulting in a stay of 36 hours in Madrid on the return: I refused the proposal and agreed to shorten my trip a day to be able to return within 24 hours. The hostess does not accept my explanation, calls a supervisor and will see his department head. Fortunately for us, I have with me e-mails wondering Iberia modification. Supervisor explains that the hostess could not read the signs on his computer, because written in french! The moral: Take care to take with you all the evidence useful.
Escale in Panama. Vol without history, but a little tiring, because the aircraft is full as an egg and it is not possible to move. No compliments to be done to the Spanish cuisine served on board.
Escale Madrid with surprise: we learn that a bomb exploded in the morning in the basement of a terminal. A cloud of smoke is still visible from our boarding lounge. We'll know later that there is one dead and one missing (actually found later, dead in the rubble). This attack will cause many delays. We will be privileged, because the takeoff of our aircraft will have only one hour shift. We find our Provence with pleasure.
This excellent tour is finished, there will be more than relive achieving this blog.
It is now done.
I hope you will have been pleased to see this blog and found some of Costa Rica, if you had not yet visited.
I forget to say: I still have to put some photos forgotten… soon!